News & Events

Thank you to all who attended this exciting and successful event in 2017!!!
5/30/17

We are looking forward to seeing everyone at the HVWHPF Summer Brunch Showcase! Join us Sunday, June 25th from 11am-1pm at Balance Point Training Center (2955 Rhodes Road, Reno NV).

It's going to be a lot of fun with demos of wild horse training and performance by Juci Somogyi (founder of Balance Point Training Center) who currently has several previously wild horses in training. We are also excited about a Wild Horse Body Language Interaction demo with Susan Kauffmann. And what fun to watch Susie Alexander do a real time performance painting during the event! We'll be auctioning off the painting at the end.

There will also be a few raffles and a chance to meet a HVWHPF rescued wild horse up for adoption!

Hope to see you there!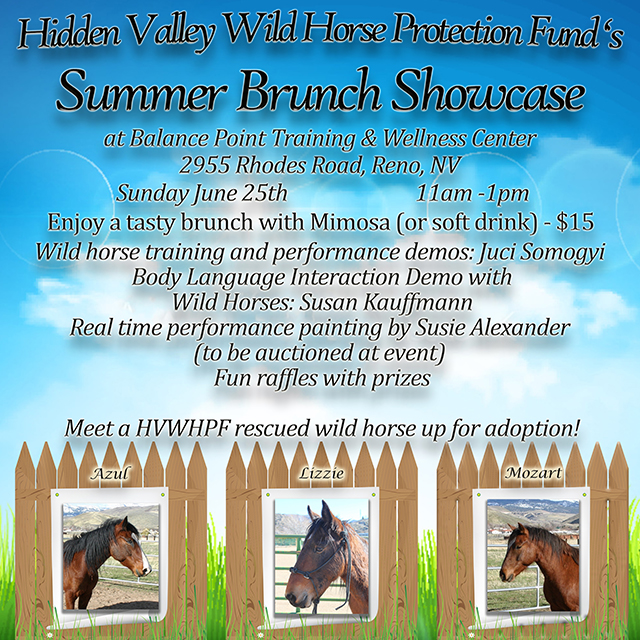 A huge THANK YOU goes out to our friends at Diggin' Your Dog for their fabulously successful fund raising event this last Saturday, Dec 15th at their warehouse at 5635 Riggins Court in Reno. With the help of soooo many wonderful supporters, Dawn and Christy raised over $700 for Hidden Valley Wild Horse Protection Fund. It was a great day, I had a chance to meet some of the people I've been emailing with, lots of people were introduced to Diggin' Your Dog treats for the first time, Dawn and Christy got some great exposure, and the horses benefited from this terrific partnership!
Thank you so very much to all who supported this wonderful event!
Shannon
It was another good day for the horses – no horses were lured into the trap at 15930 Toll Road again. The sad news is that they put a lock on the front of the trap, opened a section in the back of the trap and opened a section of fence behind their house so the horses could be lured in from behind. Not a worry though, we had people on site all day again today.
Many of you know the small group with the sweet lame chestnut 2 year old who has been limping around for about 2 weeks. He was hit by a car that caused some damage to his knee but we feel confident that he will recover and live a good life. But, we will continue to monitor him and help him as much as we can. We got his little band moved out of the Curti Ranch / Lennar homes development late this afternoon. A huge thanks goes out to Mona, Karin, Karen, and Karina who helped get them back up to the open spaces they so dearly love to be in.
Another humungous THANK YOU to Anna, Cindy, and Nathanie for taking charge of the flyers and getting them distributed around our neighborhoods!!!! I'm sure others have helped as well so please let me know who you are so I can thank you too!!!! Starbucks on Steamboat has one on their board and Sierra Feed is putting one up too. As I said before, the more informed we are the smarter we can work together…..it's just too bad that the NDoA can't join us with that thought.
Just a reminder that we will have a meeting this coming Saturday at the South Valley library on Wedge Parkway from 3-5pm. I will be sending out some information to you before then about things we need help with. I would like to ask you to bring your ideas and suggestions about how to help our horses and things you think we can accomplish.
Remember to talk to your neighbors and friends and let them know what we're doing and about the horses. The greatest gift we can give these beautiful jewels in our backyards is to teach our children and young people about them and let them know to respect these horses and what they stand for – our ever enduring pioneering spirit, our right to be free, and our independence that so many have fought for. Spitting on them is like spitting on the flag and what it stands for…..but some just don't see it like that.
11/03/12
We had a lot of success today!!! And no horses were caught in the trap at 15930 Toll Road!!!!!
I was blown away by the out pouring of support for this effort to keep that trap empty. Cindy, Anna, and Norm were there first thing in the morning and got the paint band moved away to safety. All day long, people showed up to stay watch and ensure that when our horses did come around, they were quickly shooed away – thank you so much, you are fabulous and ROCK big time!
We got a flyer printed up for the residents of the Toll Road area and Anna delivered 100 of them this evening. With the NDoA working so underhandedly, it's important that we make sure the people in that area are informed and have the opportunity to speak their piece. I have attached a similar flyer so please feel free to pass it along. The more informed we are, the more change we can affect.
We also got the Big Bay band (12 horses) moved out of Curti Ranch and up to the hillside this morning. After the stallion introduced himself to some of the local residents, he actually seemed to relax and kept his family in that area for the rest of the day. A huge THANK YOU to Tom, Mary Ann and Shirley for your help and dedication to these horses. You amaze me for all you do for our horses.
11/02/12
IRRESPONSIBLE – IS THIS HOW OUR HORSES SHOULD BE MANAGED?
I received word this afternoon that the Nevada Dept of Ag picked up their trap on Veterans Parkway (where they had picked up a bunch of our horses on Tuesday afternoon) and moved it to a Dept of Ag fans property on Toll Road. The sad and pathetic point of this story is that, once again, the Ag is luring horses down out of the canyon where they aren't bothering anyone and into a trap at the isolated end of a dead end road that leads into a canyon where horses have lived harmoniously with residents in that area for decades. If you don't like the horses, then move - you don't let the Ag (or your in-laws) put up a trap in your yard.
According to public records, the trap is now located at 15930 Toll Road. For those who are interested, here is a google map link:
In the morning, we will confirm claims from surrounding neighbors that the Brand Inspector Blaine Northrop also laid out substantial amounts of hay strewn out from the trap on up into the canyon. Why in the name of all that is good and wonderful about these horses would any respectable individual do such a thing – perhaps because he is not. The outcome will only serve to bring innocent horses down the canyon and into the trap. Such actions are absolutely pathetic and irresponsible and using the excuse that "I'm only following orders" didn't get much sympathy at the Nuremburg trials either.
Please let me know if you can help to keep the horses away from this trap. If we have enough people who can rotate one hour shifts then we can buy the horses time and perhaps save their lives – if trapped, they'll be off to the auction yards in Fallon.
10/30/12
HARASSING OUR HORSES
Thank you to everyone who contacted me today about the so called 'round-up' that took place this afternoon on Veterans Parkway in Damonte Ranch. I have heard from lots of people and many who were lied to. Apparently the horses were pushed into the corral trap by men using lassos. People were told that these horses were being relocated to higher ground – bullshit. Others were told that the horses were being taken to be trained for border patrol protection – more bullshit. The horses were harassed and entrapped. This was all done with the knowledge and encouragement of the Nevada Dept of Agriculture. I understand that one of the property developers was also involved. I would like to ask anyone who saw this 'round-up' to contact me and let me know what happened. Please send any pictures or video that you may have taken or ask friends and neighbors if they got any. From what I've been able to determine, they picked up approximately 24 horses today. Just so everyone knows, these horses were taken to the prison in Carson City where the stallions will be castrated, they will all be branded, and micro-chipped and then taken to the Fallon livestock auction for sale to the highest bidder.
I'm angry. I understand the horses need to be moved out of our community but this is unconscionable. Instead of helping us move the horses and encourage them to stay on the hillsides, they push these horses into corrals and take them away – they can never again roam free and wild.
MEETING NEXT SATURDAY AT SOUTH VALLEY LIBRARY
I have rented a meeting room at the South Valley library for Saturday, November 10th from 3 – 5 pm. I invite you to join me to discuss what we can do together as a community to improve the situation for our horses. Please pass this invitation on to your neighbors and friends. Whether you like the horses or hate them, we need to work together to come up with solutions for all. The library is located off of Wedge Parkway.
PLEASE DON'T FEED OR WATER THE HORSES
Above all, I encourage everyone to stop feeding and watering the horses in your neighborhoods. While we know the horses are attracted to all the green grass and several water sources, feeding and watering them desensitizes them to the dangers of our streets and vehicles. And please stay away from whichever horses are still left. They are not aggressive and are very gentle but can move quickly and unpredictably and people should give them a wide breadth. And more than anything else, please keep children of ALL sizes far away from the horses.
INJURED COLT
On another sad note, I also received quite a few reports of an injured colt in the Curti Ranch area. We are assessing the situation and are getting him help but I understand he was hit by a vehicle last week so the outcome is not promising. Situations like this are the sad outcome for the horses when they remain in our communities. A dark horse on a dark street where there is low lighting and people driving too fast is a bad combination.
Please keep me informed about what is happening out there and send me your feedback about the events of today. Again, I encourage everyone to come to our meeting next Saturday, November 10th 3-5pm at the South Valley library.
Also, the Virginia Range Wildlife Protection Association will be holding their monthly meeting at the Firehouse on Cartwright Lane in the Highlands tomorrow night, Wednesday, at 6:30 pm.
10/24/12
Just got in the door from another session out at the livestock auction – the wild horses prevailed…..we got 'em all!
All 29 wild horses picked up in Virginia City 2 weeks ago are now going to be safe and well taken care of. We spent more than the going rate again but the kill buyers and horses thieves didn't get one of them!!!!
We should have pictures of them all in the next several days and will get those on our website as soon as I can get them up there.
Thank you again to all those who sent in their donations to rescue these beautiful horses!!!! There were a total of 4 foals, 12 mares, and 13 gelded stallions. They are mostly bays, but there is a black/gray appaloosa, a sorrel, and several black ones. And there are three yearlings and five 2 year olds.
They are all very beautiful and gentle creatures.
Now I have to zip over to Verdi and buy my lottery tickets so I can win several million dollars and buy several million acres of land to put several million horses on…..
10/22/12
ADOPTIONS
We're still looking for long term forever homes for 29 of our horse 'kids'. If you're interested or know someone who is interested in adopting one of our Virginia Range wild horses, please check out our website at
www.hiddenvalleyhorses.com
. You'll also find photos of each of the 'kids' and a little description about each. We are starting to prepare all these horses for transport to the east coast so time is running out for you to be able to adopt them before they leave. Send us your completed application and we should have an answer back in about a week.
RESCUE
We have another 29 Virginia Range wild horses going to auction this Wednesday, October 24th at the Fallon Livestock Marketing yard. These horses were picked up by the Department of Agriculture 2 weeks ago because they were a 'public safety concern' – what a load!!! Wild horses in Virginia City a 'concern'! It will be a concern when we don't have any more wild horse in Virginia City! So, we will be heading out to the auction again on Wednesday in the hopes of buying as many of these poor horses as we can.
On a positive note, 12 of our rescued Virginia Range horses (6 mares and 6 babies) were transported and safely delivered this weekend to a wonderful rescue in California. We will be sending 4 more horses from that same band to them as well, so the entire family will be kept intact and continue to live their lives together as a family.
SUPPORT AND DONATIONS
I want to again extend my thanks and gratitude to all those who have offered their support and donations to help our horses. I've received hundreds of emails from wonderful, caring people. If I haven't yet responded, I apologize but am still working my way through them.
PLEASE DO NOT FEED THE HORSES
And please remember not to feed our horses in or near the streets. It's either a death sentence for them because they run the risk of getting hit by cars or they will get picked up by the Dept of Ag and enter the slaughter pipeline!!!! Either way, we need to get them back up in the hills, away from our streets, where they are safe. Spread the word to your neighbors and friends.
10/10/12
NEW ARRIVALS
Jesse, JJ, Brittany & Spencer all arrived safely at their new rescue home in Colorado!!! We'll have their pictures up soon.
10/09/12
Thanks so much to so many of you for writing and sharing your thoughts and opinions about our wild horses!! And a special thanks to all those who have donated to help us save our 53 wild horses from the slaughter pipeline.
RESCUES AND ADOPTIONS
We have been extremely busy with setting up an adoption process for our new extended family of 53 horses. We are now working to ensure that we get them adopted out to good, loving, caring, qualified adopters where they will be safe and cared for for the rest of their lives. Please check out our ADOPTION tab to view pictures of the 'kids' that are up for adoption and where you can print out the adoption papers:
Today was bittersweet for us – the first 4 horses (2 mares and their babies) of the Virginia Range 53 were loaded onto transport this morning for a journey to their new home at a rescue in Colorado. While finding them all good homes is our goal, it's still hard to say good-bye and acknowledge that they will never again be truly free. We are grateful to all the rescues and individuals that have stepped up and offered to adopt our 'kids'. However, we still have quite a few that are looking for forever homes. Please forward this message to your friends, family members, colleagues, acquaintances and others who might want a gentle soul to care for. Additionally, we just got word today that another 29 horses have been picked up and are due at the Fallon auction on Wednesday, October 24th. We cannot take more horses until we adopt out the ones we have. Can you help?
We are all very frustrated with the Ag department and have been for some months…well years actually. All our horses in the Virginia Range fall under the rule of the state Agriculture department because the Virginia Range is primarily private property, not BLM. Thus, the horses are not afforded protection under the Wild Horse & Burro Act of 1971 but are instead subjected to the whims of whoever is in charge of the Ag department – currently Jim Barbee. He has done nothing for the horses, does not respond to phone calls to help, or emails with suggestions, has been caught spewing horrible things to the public, and refuses to work with wild horse advocates to try to fix some of the problems we are having especially in places like Curti Ranch.
I have asked the Ag to consider implementing emergency diversionary supplemental feeding which means taking hay up on the hillsides at least once a day. This method has proven successful in the Hidden Valley community because it draws the horses out of our communities and back up on the hillsides where they are safe and can be horses. The Ag has yet to respond to this suggestion.
Another problem we face with the Ag is that when they pick up horses (and they do because people complain about them), the current policy is to send them to the Fallon livestock auction where they enter the slaughter pipeline if we don't buy them back. This is extremely upsetting, unfair, and illogical. I have asked them to consider entering into a cooperative agreement with our organization where we can take possession of the horses and use our valuable donations to find the horses good forever homes instead of lining the pockets of the shills at the auction houses – to date no response has been received.
And as I mentioned above, I received more bad news out of the Ag's Elko office today – they did indeed pick up another 29 horses in Virginia City (the home of the great wild west and back drop to TV's Bonanza!!!) because of complaints that the horses might hurt some of the Outhouse Race contestants. And now these horses will be headed to the October 24th auction in Fallon. My stomach is turning at the thought of going out there again.
I'm hoping we can get enough residents interested that they will sign a petition asking for emergency measures to be implemented like the ones above. But what do we do in the meantime? The horses are starving. Because we are a non-profit we cannot feed them without an agreement with the Ag and we can't tell people to do it either!!!!!! Feeding in the streets is the worst thing we can do – so please don't do it. This encourages the horses to stay near roads and is essentially a death sentence to them. Let me know if you have suggestions or ideas or want to help.
For those interested, the Virginia Range Wildlife Protection Association will be holding their monthly meeting on the 4th Wednesday of the month, October 24th at 6:30pm at the Firehouse on Cartwright Road.
Also, I will be heading down to Wild Horse Spirit in Washoe Valley this Sunday, October 14th to shovel some more digested hay – let me know if you'd like to come along.
09/19/12
As you may have heard, there has been a lot of stuff going on, from more horses being picked up (at least 16 if not more) to the newspaper advertising the first 23 horses trapped being sold at the livestock auction in Fallon to the Master Builder in Damonte Ranch refusing to fence out property to stop the horses from getting into our streets and then crying about them on his property.
The auction is to be held in Fallon at the Nevada Livestock Marketing, Wednesday, Sept 19th. We will be attending and attempt to get our horses back. We have been able to secure short term housing for them all but now are in desperate need of long term forever homes for them. Please continue to spread the word that we have some beautiful, gentle souls who are very scared right now and need people who will care for them for the rest of their lives. And no mistaking, this is a huge commitment, horses are expensive and can live to 25 – 30+ years. We are willing to help get adopters started with these horses so please help us find homes for them.
09/12/12
We've seen a lot going on over the last several weeks, some of it very disturbing. Of most importance this morning, our 23 horses that were captured on Clean Water Way are now headed to the Livestock auction yards next Wednesday, September 19th. Unfortunately, the Ag has chosen this path instead of allowing horse advocates first chance to purchase them. Now, we must compete with Kill Buyers who purchase horses at these auctions for transportation to slaughter houses in Mexico and/or Canada.
We are in grave need of people who can adopt these horses – 23 in total, mares, gelded stallions, and foals – see the attached newspaper ad with their descriptions. We need long term adoption placements for them as well as short term placement while we find them forever homes. And not to forget, that while these horses are not trained and will need work and secure quarters, they also are known to be wonderful, gentle, smart, and very hearty animals.
Please pass this message on to anyone you think might be able to help, regardless of their location. We have the funds to purchase these horses, however we must have a place or places to take them immediately after purchasing them. This also means that we will need to have trailers available for 23 horses.
We also have not been granted access to the prison facility to photograph the horses so we can start advertising them.
Our intent is to purchase all 23, however there is no guarantee that we will get them all. I will not give up and will continue to try to get special consideration for these horses from Director Barbee to be allowed to purchase them without them going to the auction yards.
Additionally, Jane called me yesterday about noon to say that another corral trap was being set up near Steamboat and Veterans. Again, the developer has complained about the horses being on his property and asked for a pick up. The horses are getting out in our streets through property which the developer refuses to fence up. How hypocritical and shameful. I will try to find out which horses they picked up yesterday. The numbers just seem to be growing.
Also, Amie from Curti Ranch advised that one of the horses in the big band that moves between Toll Road, the Foothills and Curti Ranch has a large open gash on its right flank. We'll make sure to keep an eye on it.
Enough for now – thanks so much to those who are calling in and watching out for the horses! This is huge!!!!!!! And makes such a difference!
Stay tuned and I'll try to keep you all informed – thanks!!!!
Great news! - The project manager for the Stagecoach development (next to Damonte Ranch High School) called today to say they had installed the additional fences on both the access paths!!!!!!!! They have no idea how many horses lives they've just saved by doing this! If anyone is interested in an early morning fence maintenance outing this Saturday morning, I'll be walking the fence line behind that development and fixing any open or weak spots. This is VERY exciting news as it brings us one more step closer to a complete fence out!!!
On a very sad note, we found a dead mare last evening up in the hills. She had a baby estimated to be about 5 months old – it was still with the band but calling for its Mom. This band are roamers so it will be hard to find them again – but we'll keep watching for them.
If you are interested, we'd like you to write a letter to Governor Sandoval expressing your dissatisfaction with the performance of the Nevada Department of Agriculture, and its oversight of Nevada's wild horses. the Ag is not responding to requests to engage in cooperative agreements with non-profit organizations which would include diversionary supplemental feeding designed to keep the horses as far away from our streets and developments as possible, as well as implementing population control methods designed to maintain healthy populations; additionally, the Ag has not provided a reason for not wanting to engage in cooperative agreements, but instead simply remains silent and unresponsive; there is no announced change to the department's policy towards the horses despite the severe drought conditions that surround them, horses are dropping dead and the NDA is doing nothing; the department is responding when people complain about the horses by setting up corral traps and removing horses, however does not respond to requests from non-profit organizations to help improve conditions and fix problems.
Your letter, however brief or longwinded, will be greatly appreciated. One of our wild horse advocates will be meeting with the Governor's office on Friday and would like to take as many letters as possible to this meeting. You are more than welcome to send your letter to me (no later than Thursday afternoon) and I will ensure that it gets delivered. However, if you can't make the Thursday afternoon deadline, please write your letter anyhow and send it on – every voice counts for those who have no voice.
08/24/12
Well, it's been a busy and bizarre week and a half. The corral trap set up at Brown Elementary school last weekend was removed. Thank you to those who contacted the Washoe County School District. The on-going issue being repeated across the Virginia Range hillside is that people are feeding the horses which encourages them to stay near homes, on roads, and in this case on school property. Just a few days after the trap was removed, someone dumped a bunch of hay on the school grounds again. So far, the horses seem to be staying away from the school.
Last Friday morning at 6:15 am I received a call from Betsy, one of our Board members, who spotted another corral trap on Clean Water Way and there were 11 horses in it. The Brand Inspector, was on-site and said that he had picked up "several" horses the previous day. We believe he picked up 18 horses total, 3-4 babies and the rest adults. Again, "people have been complaining" was the reason for the pick up and involved apples being left at the roadside causing the horses to congregate along the side of the road. We are kicking into gear to raise money to purchase these horses, however a much more serious problem is placing them!!!! It is getting much harder to find homes for horses which means they must be placed in boarding situations – all costing lots of money. Please spread the word that we need to find homes for these innocent creatures.
Great news in the Stagecoach development next to Damonte Ranch High School – the developer is putting up more fencing, scheduled to be installed in about 2 weeks. Horses are popping out of that community like popcorn. Thanks so much to Jane and Doug for your reports about the whereabouts of the horses!!! And thank you to Mary Ann and Tom and Mona for moving these horses on a daily basis - hopefully they'll be plugged up shortly!!
Opportunities – spread the word NOT to feed the horses; help us raise money to help the horses; help us find homes for lots of horses; want to work on our annual fund raising silent auction and dinner?; interested in helping to move horses, especially in Damonte Ranch?; take pictures of and identify all the horses; help us make a youtube video.
YOUTUBE video - Enjoy!
We invite you to use this link to view our first 'youtube' video highlighting photos of many of our wild ones in their natural habitat. All photos were provided by our volunteers.
Thanks for visiting and come back soon!
Donate to the Hidden Valley Wild Horse Protection Fund
or

click below to donate any amount you wish